I think its always important to have some kind of a plan when it comes to tackling a car build, and this goes for the bigger pictures of life too; but this isn't that sort of blog and I'm no where near qualified to even go down that road. Carlos's S13 has been another "feature in the making" for a while now, and for whatever reason I continue to surround myself with people that make good on their word – and a short year later here we are with this V8 swapped S13 that remained faithful to its import roots.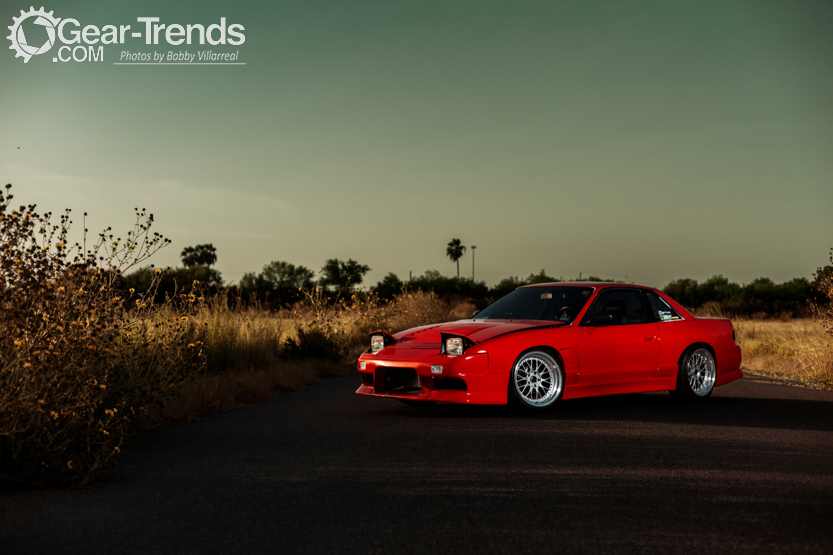 Nothing gets you motivated and moving like the countdown to an event you're trying to get your car to. Some of us know those days all to well, the kind that seem to not have enough hours in them and all the while running on only a few hours of sleep – if you're lucky. Just a few days ago this car was still getting new parts installed and having everything dialed in for this coming weekends drift event up in San Antonio, which will also be this cars first time on the track. I personally love photographing and seeings cars that have been built for a purpose, and more so when a car was built for one reason and has a solid year of work invested that will come all together in under 48 hours. The first thing I wanted to do when I got into cars was go to a race track, so there I was- young me before having a camera always strapped around my side watching the local drag cars tear up the quarter mile strip we have here; I was hooked. There's something about Motorsports that just draws you in, the sounds of tires breaking loose and engines roaring – the smell of race gas and burning rubber…all of it comes together and resonates within you. Then you finally get old enough to be one of those guys that gets off the sidelines and out on the track, and if you're lucky you'll have met some people that have the same goal.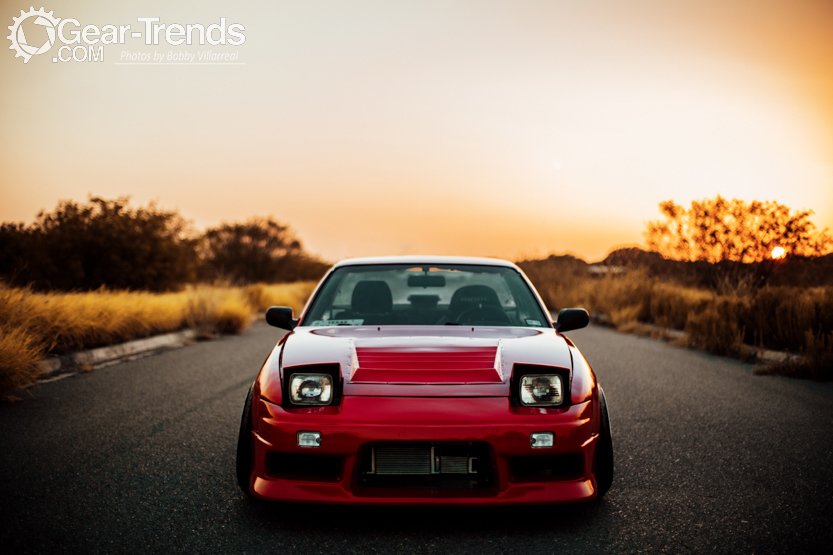 I've been following the ZeroGrip guys for a while now, maybe "follow" isn't the right word really. I've gotten to know these guys and have seen up close the type of dedication they have to keep going; nights of staying in and working on their cars, a quick break to eat, and back to wrenching again til 2am – that's what it takes sometimes. To think this car was bone stock down to the wheels at one point, I mean you hear the term "built not bought" get thrown around these days, however everything done to this car has happened while in his possession. It wasn't long after finding this gem that he decided to start tearing into it and swap in a motor that would give it the power it would need. That same year he was able to source the VH45DE Motor off a Infiniti Q45 (yep still a Nissan motor) that has now made its home into the bay of this S13, a nice cozy fit really. To get this motor to sit in there, a few key components were custom made- mounts, alternator relocation kit, power steering, and headers were just the beginning. Along with your typical I/H/E setup you'll find a few other pieces that helped get this VH45 running stronger and the NICO tune makes sure its all set. Of course with any car that's going to be seeing the track, you'll know power isn't everything; The suspension department has been upgraded with the help of some Fortune Auto coilovers, ISR control arms, and a few more key components that'll help this car do what it was built for.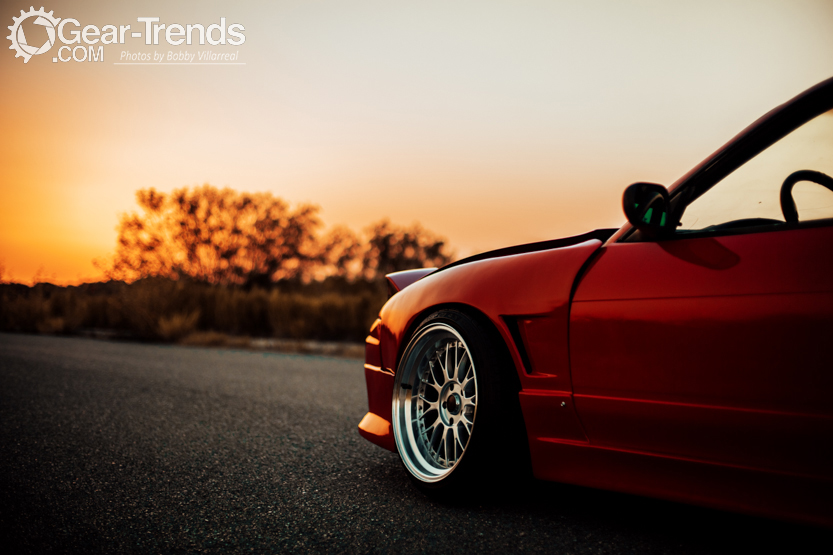 It's always important to stay the course, despite what obstacles we end up having to overcome – ok ok I know, we aren't THAT kind of blog. Setting a goal for your build and sticking to it goes a long way, it sounds simple and extremely obvious but it gets overlooked from time to time. Carlos could have easily walked away from the automotive scene all together several years ago, and for good reason (those reasons I wont go into detail about, but I've seen it happen)- yet here he is years later, hours away from probably waking up to finish up some last minute details before loading up the car. I know I've titled this "End Game", mostly because this weekend is what this build has led up to, But this event in no way marks the end; in fact as cliche as it may sound – this is just the beginning. Be sure to check back here next week when I'll be putting up some coverage from the trip to San Antonio with the ZeroGrip guys and you can see this import V8 swapped S13 in action.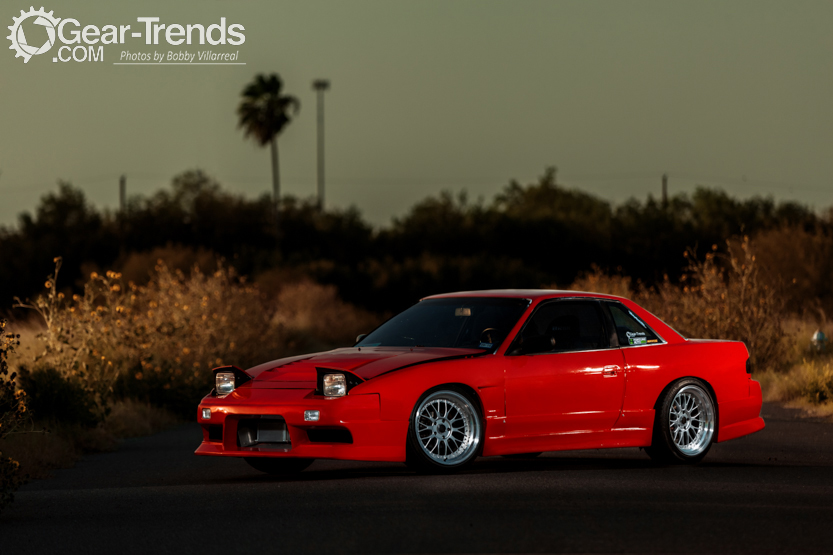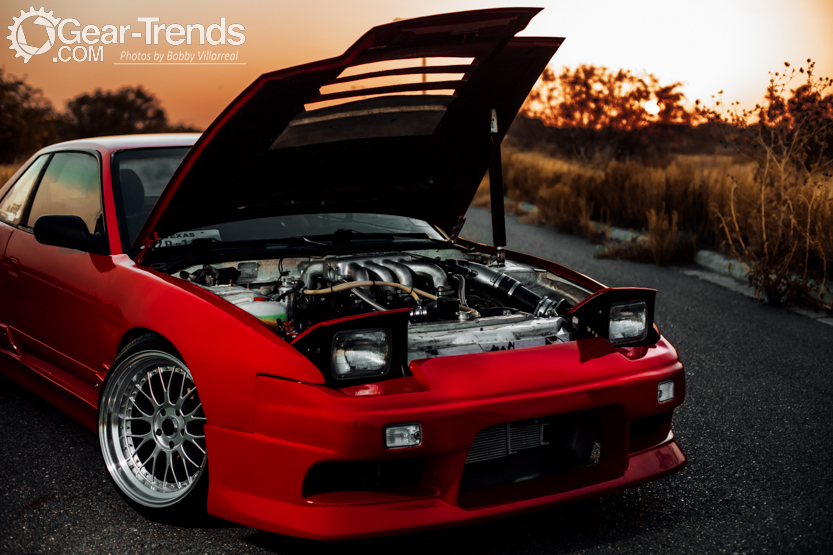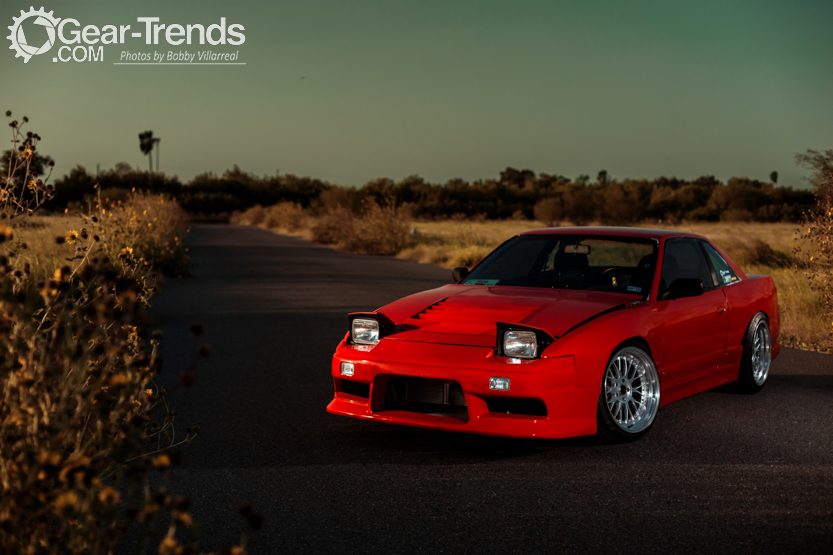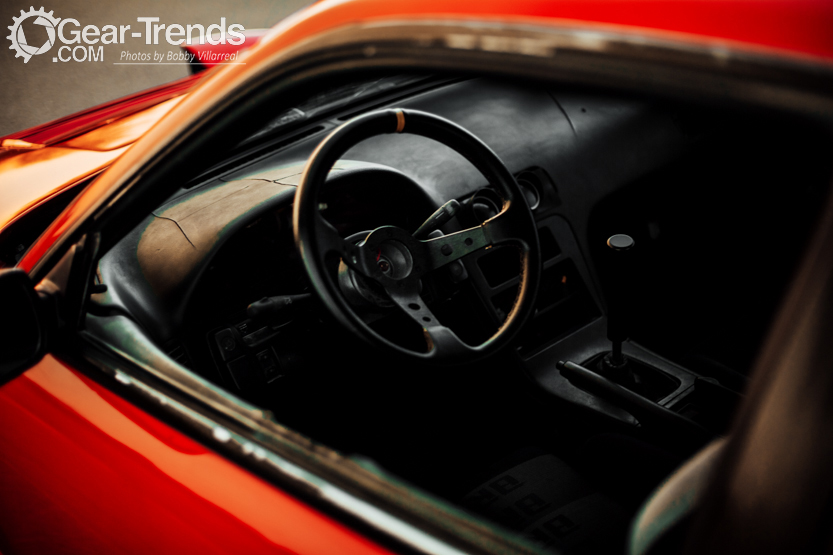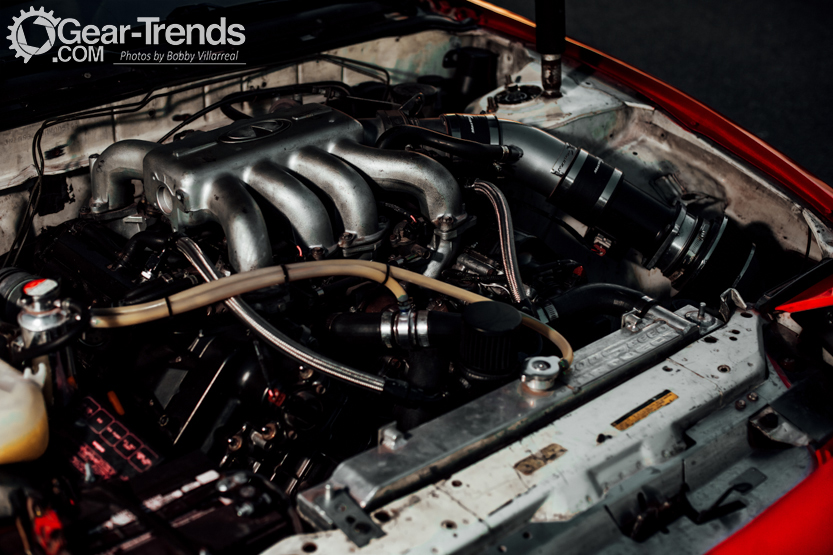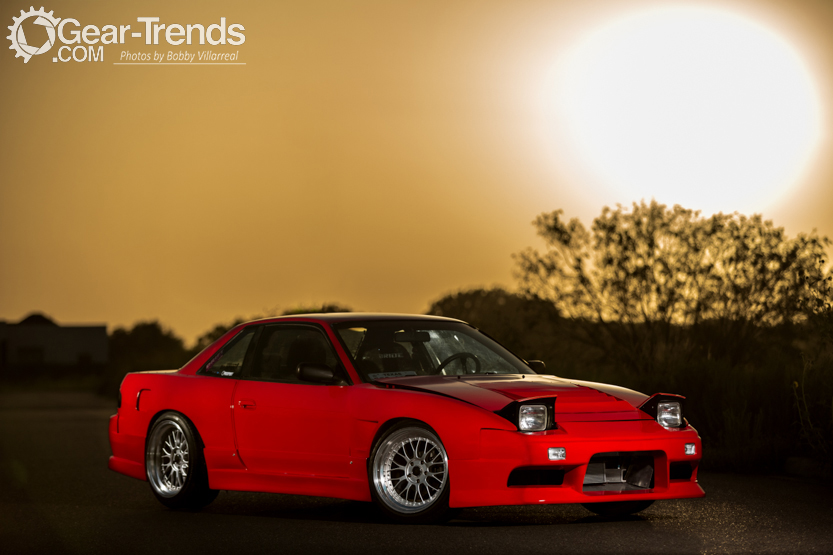 Carlos Nunez Ramos's 1992 Nissan 240sx

Performance :
4.5 liter VH45DE V8 Swap
Custom Headers
Custom Engine/Tranny Mounts
Custom Alternator Relocation & Power Steering Kit w/ Cooler
Wiring Specialties Pro Harness
Walbro 255lph Fuel Pump
CX Racing radiator, Dual Fans w/ Shroud, PBM Swirl Tank
3qt Canton Oil Accusump w/ Custom AN lines & Oil Cooler
NICO Tune w/ 7400 rpm Rev Limiter, 91 Octane only
Custom Breather Tank
Y Pipe to Custom 3″ Straight Pipe
Mazworx Air Intake
Five-speed Z32 Transmission
Spec 2 Clutch Kit
Mazworx Adapter Plate
Shaft Masters One Piece Aluminum Driveshaft
Welded Stock Differential
Cosmetics :
Circuit Sports Tinted Taillights
180sx Turning Signal Lights
URAS Style Hood Vent
30mm Front/Rear Overfenders
Version Select Rep Kit
Interior :
Bride Rep Driver Seat
14 Passenger Seat/Seat Belts
Prosport Oil Pressure/Water Temp
Viper Car Alarm
Rollers :
Hypersilver XXR 521 18×10 +12 Offset All Around
Ferderal 225/40/18 Front
Kendas 235/40/18 Rear
Stiff Stuff :
DriftKnuckles 70* Angle Kit
ISR Adjustable Control Arms
PBM Solid Subframe Bushings
Fortune Auto Coilovers 500 Series 12k F / 10k R
Sounds :
Sound of Japanese Muscle =D
Shout Outs :
I'd like to thank My wife Viany for her unconditional support and patience, Its very tough to be married to a gearhead haha
My Mom, Brother and Uncle who supported my decision to build a second S13.
My friends/teammates at Zero Grip, Oscar Balderas for all his help with the car in this 100*+ weather.
Street Time Custom for the paint job.
Bryan Rogers at Driftknuckles for all the advice on this swap
Eric Getz at VHPerformance
VH45 Facebook group
To keep up with the ZeroGrip guys go check out progress and updates on Instagram!

————————————–

Photos and Words by : Bobby Villarreal