Not for the Faint of Heart
Sometimes social media does some good, instead of using it to get "roasted" anonymously by some new trendy app, to swipe left or right on a cute single in your area, or to post photos of your food constantly – sometimes it does some good. That's how this entire shoot ended up happening, no…not by swiping left, come on guys- I happened to be at a car show in Harlingen months ago snapping some photos for myself, posted them up a few days later on Facebok, and the owner of this car was doing the same thing. I noticed he owned a Mustang and realized I haven't put up a really all out built domestic V8 in a while – so the wheels got turning, and it just so happened that I got lucky, this wasn't some car that got tossed in a shop and built- most of this went down in his own garage.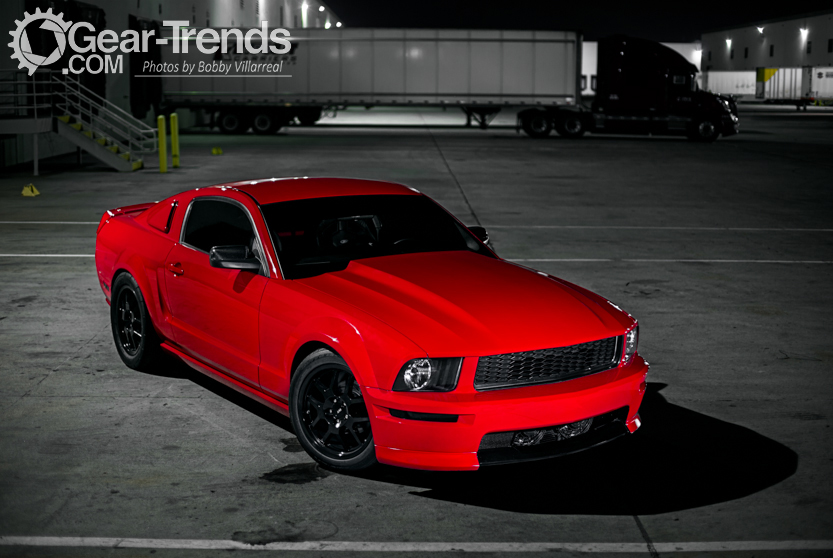 I'm not gonna say that NEVER happens, there are still a lot of people that have the "do it yourself" attitude and capabilities- but it's always great to see it happen in a way where the end result is a car being worked on in all areas. There is no part of this car that hasn't been modified, I mean the stereo system is the same but who needs to have a crazy sub/amp combo when you have all that going under the hood to provide something you can't get from blasting the radio to whatever it is normal people listen to these days, trap music is still a thing right? The Kenne Bell Supercharger attached to this 4.6L motor, along with the massive list of mods also under the hood, would get even the non car guys to completely turn the radio off and listen in.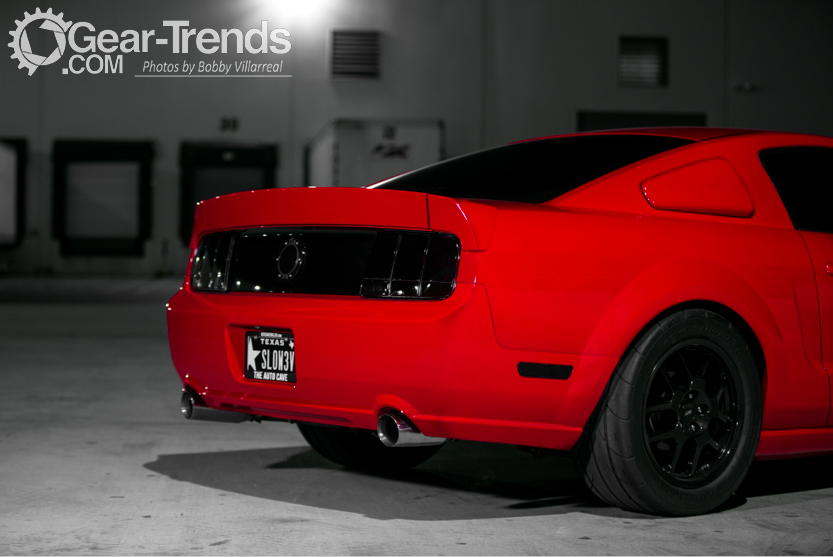 Like most projects that are this involved, things don't happen overnight and it's not really for the faint of heart. Doing the usual "lurking" one must do on social media these days, I saw photos of Thomas inside the bay doing the shaving and spraying it a fresh coat of red before the motor made its way back in. The rest of the outside of the car got resprayed by himself and a good friend of his with all the new exterior mods that found their way to the car. The exterior has been given an aggressive look starting from the Cervini hood all the way out back to the Foose rear spoiler, all of which doesn't pop out and yell at you, but instead sits back and waits for you to notice that this is probably the way this car should have come from the factory. When this car is on the street, a set of GT500 wheels that were powder coated black can be seen rolling around town, but when its time to get serious and put the hammer down a set of Weld Racing wheels wrapped in some Hoosier racing slicks out back with drag skinnies up front.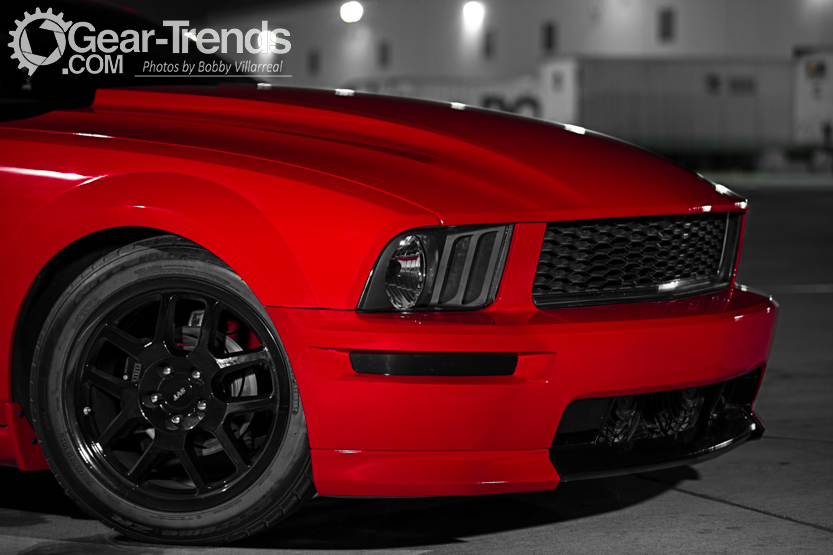 This car was a breath of fresh air, every angle I looked at it through the lens I saw something else that has been done to the car. There's a whole lot going on under the hood, everything is spotless. The interior has a few things that were done that make you remember that this isn't some average run of the mill Mustang. A set of Ford Racing seats that were meant for the 2015 model have made their way into this 05′ by modifying the seat tracks. A 5 point racing harness was added to hold the driver and passenger in place and to give the car a nice updated and custom look to it, the door panels were reupholstered by himself because again, sometimes you just need to do things yourself.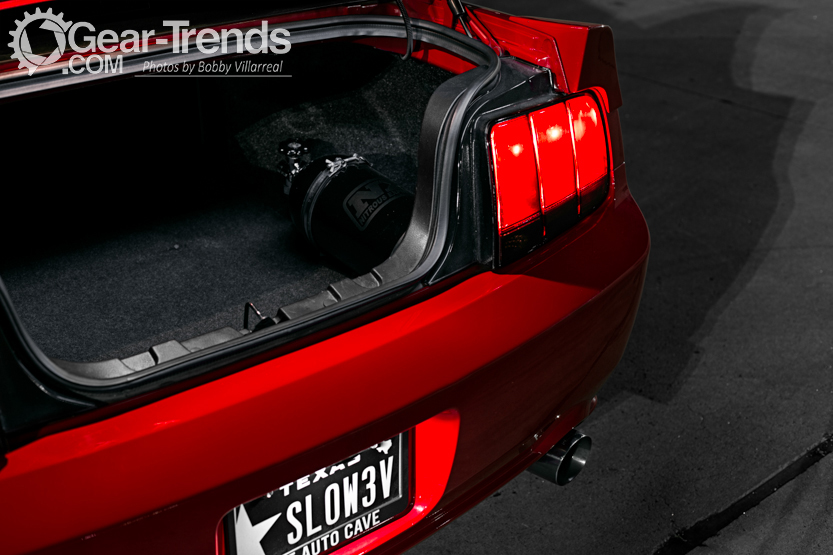 When I say this car was a breath of fresh air, I mean its not every day the owner of the car is the one tearing into the motor, respraying the car after exterior mods were installed, working on and setting up the suspension, or hell even grabbing a needle and thread to do the door panels. It's not for everyone, and I'm not gonna sit here and condemn anyone that doesn't end up modifying their car in this exact way – hell I know I cant, I know a lot of us cant – and that's fine. But I've said it before and I'll say it again, THIS is when a car is done – when all areas of the vehicle have been upgraded with something better than what the car came with from factory, this is essentially the "end goal". There's this new era of car "builds" that we seem to have come into, but sometimes you have to call a spade a spade, and I'm sorry but that phrase "wheels and bags aint a build" comes to mind. Thomas also has another Mustang that we'll be featuring soon, as if one isn't enough, so stay tuned for the feature on that car in the next month or two.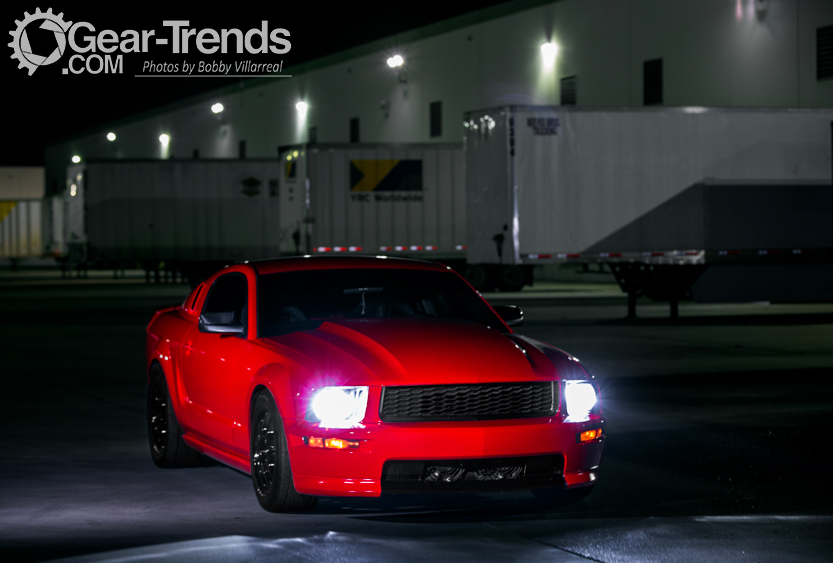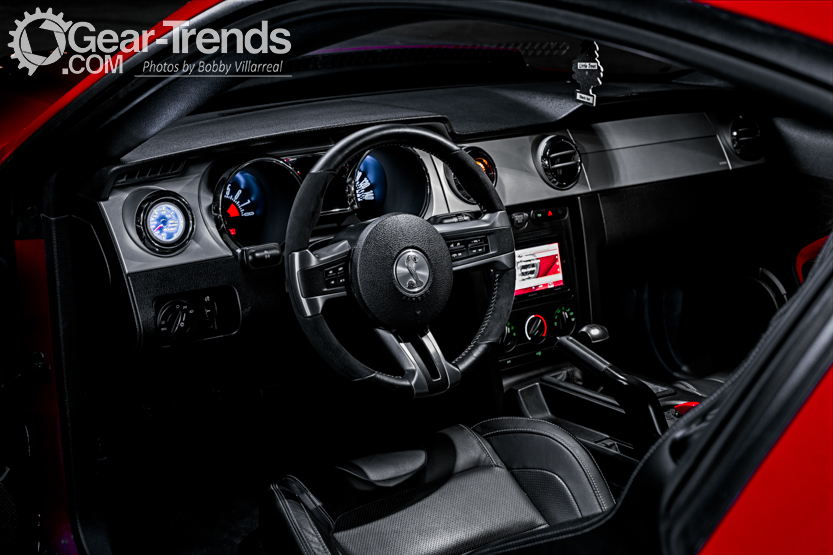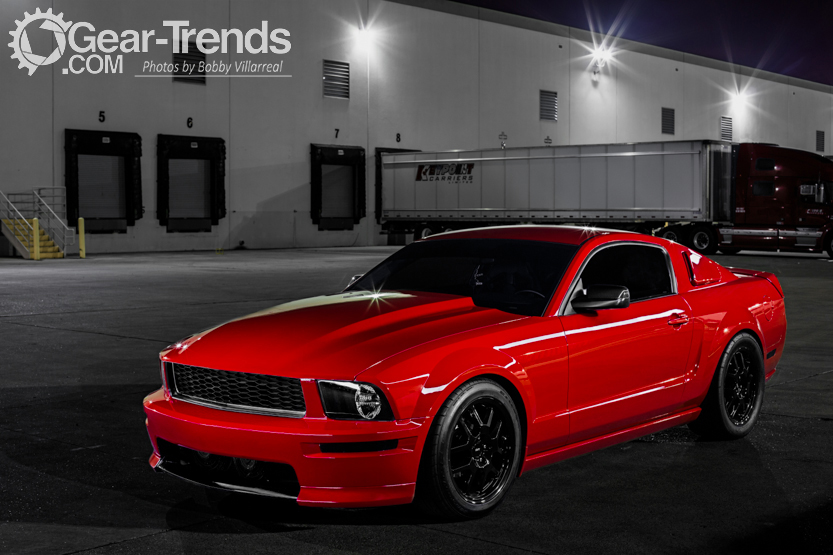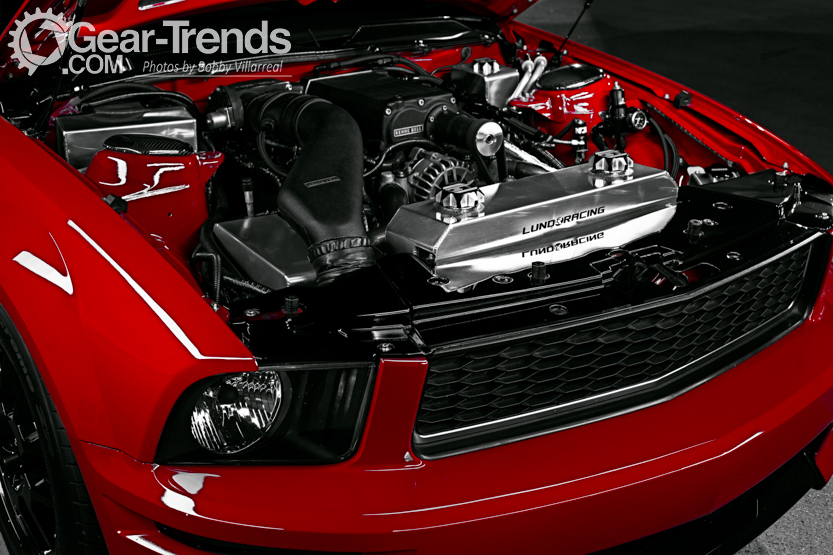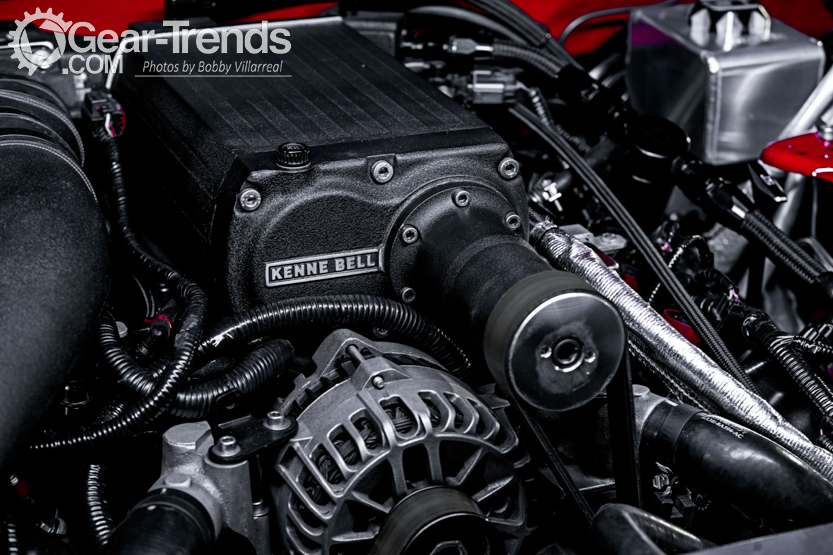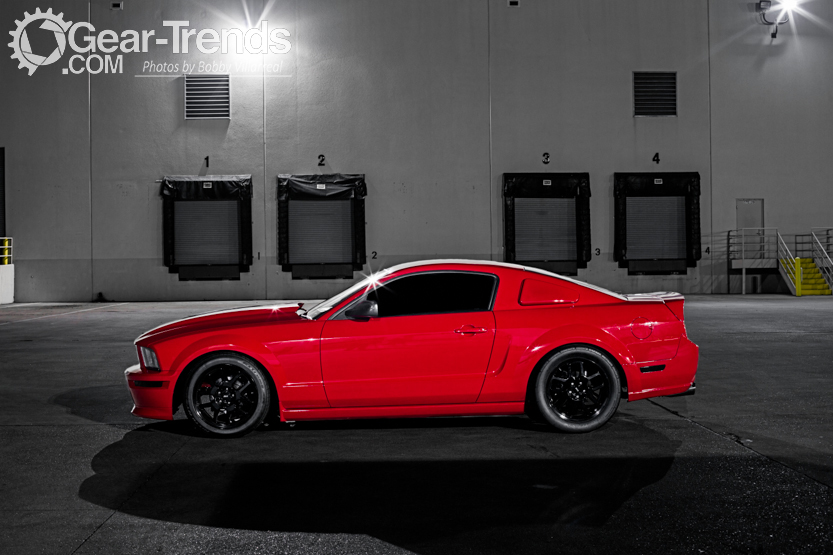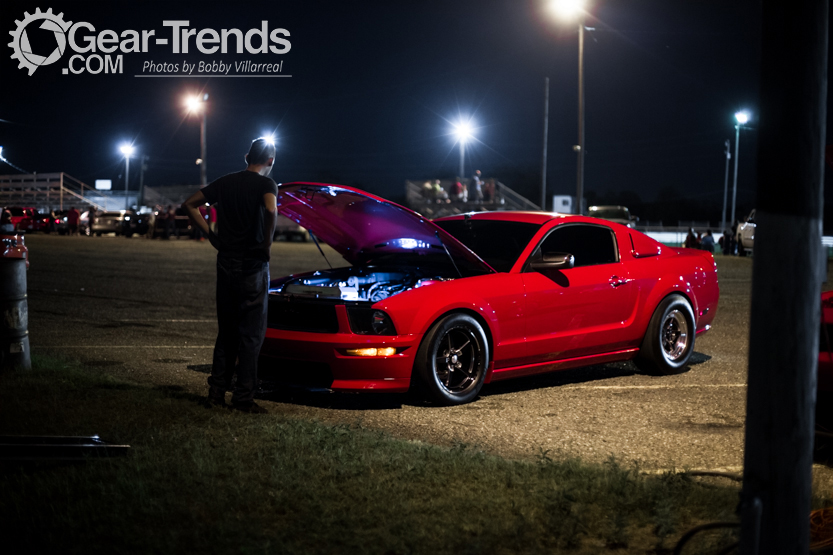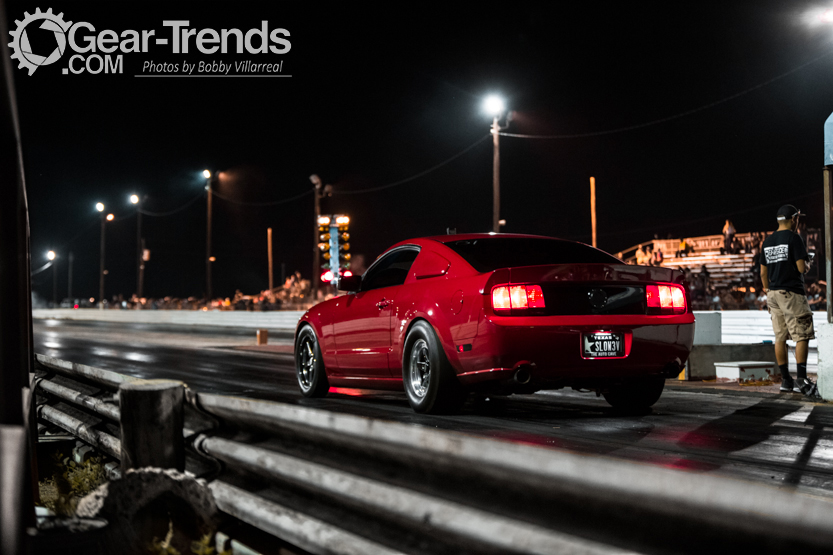 Thomas Sanchez's 2005 Ford Mustang GT

Performance :
Stock Block 4.6 w/ Kenne Bell Supercharger
2004 SVT Cobra Crankshaft
Manley Connecting Rods
Diamond Pistons
2013 GT500 S/C Cooling System (Heat Exchanger, Pump, one-piece Moroso Coolant Tank)
Custom Dual Pusher Fan Mount on Heat Exchanger
Ford Racing Timing Components
Ford Racing Valve Train
Comp Cams
Innovators West Harmonic Balancer
8 Rib Serpentine Belt Conversion (5.4 & Powerstroke Parts – belt off 7.3 Power Stroke Diesel)
Stage 2 Blower Grind Cams
Nitrous Express 75 Shot Plate Kit
JLT Oil Separator
Drive Shaft Shop 1 Piece CF Driveshaft
TR3650 Trans with Hardened 26 Spline Input Shaft
McLeod RST Clutch (800hp rated)
Ford Racing 4.10 Gears
Cosmetics :
Exterior Repainted By Owner
Engine Bay Shaved
Fender Emblems + Antenna Shaved
CF Mirror Covers
CF Strut Tower Covers
GT/CS Front Bumper
Foose Stallion Quarter Scoops
Foose Stallion Rear Spoiler
Bulitt Grille
Cervini Cown Induction Hood
Interior :
2015 Ford Racing Seats w/ Modified Seat Tracks
Simpson 5 Point Harness
Custom Upholstered Door Panels
Rear Seat Area Carpeted w/ Access Panel to Fuel Pump
Rollers :
Shelby GT500 Wheels (Powdercoated Black – Street)
Weld Racing Wheels Alumastar Front / Weld Racing RT-S Rear Wheels (Track)
Stiff Stuff :
All Suspension replaced with BMR Parts (Powdercoated Red)
Ford Racing K Spring w/ Billet Viking Double Adjustable Rear Shocks + Ford Racing Front Struts
Strange Engineering 4 Piston Billet Caliper w/ SOlid Drag Race Rotors (Front)
Billet Pro Shop Rear Brake (Rear)
2013 GT500 Diff Cover
Sounds :
Factory Components
————————————–

Photos and Words by : Bobby Villarreal