Open Heart – Open Throttle
It had been 3 years since my last drift event, some friends of mine decided they would make it out to this drift clinic last December and I tagged along. I was mainly there to document the stuff on the track, off the track, and get to shoot cars doing things we really don't see down here in the valley. Another thing we don't see too often down here are fully kitted cars, let alone a car this like that that actually gets loose on the track. Me being the type of guy I am, I kept to myself and just took a few photos of Hunter's car – posted them on the blog, and saw him share a few over different social networks. When I found out we'd be back up for the Lone Star Drift series for round 1 – I had to take a shot and see if he'd be interested in a feature.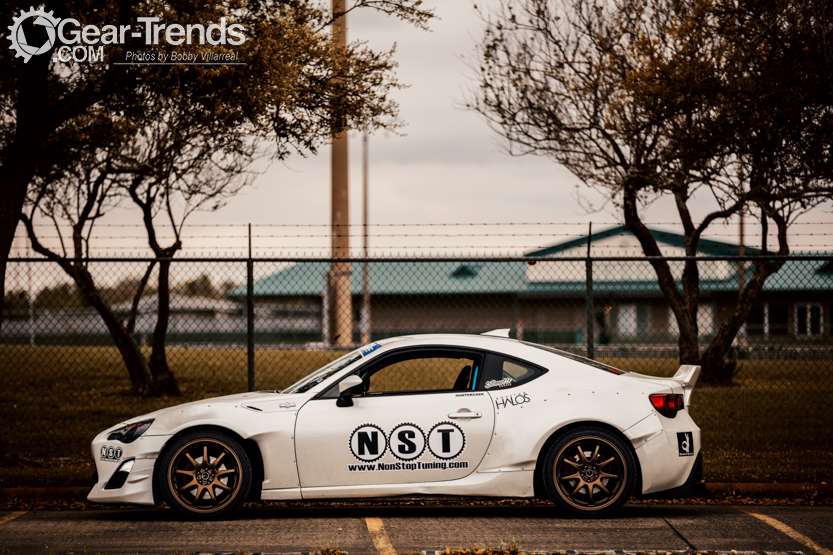 When all the travel plans for Round 1 were confirmed I decided to send a message to see if setting up a small shoot is something he'd be interested in. I sent a message out via Facebook and shortly after started thinking, "no way, this guy's gonna be getting the car ready, running around, doing God knows what in between runs, then competition….nah won't happen but its worth a shot". Shortly after I get a message, "Fuck yeah, I love your blog" – yeah I tend to really over think certain things haha, but it's at moments like that where I'll think "ok, maybe I'm doing something right". We decided to get this all shot before the track went hot, after the driver meeting we drove out a bit away from all the action that was about to start on the track and got to shooting. The thing about living in Texas is you have to be prepared for is the ridiculous weather patterns here, it was a nice overcast cool day but ended up being ridiculously windy and wearing shorts wasn't a great idea – oddly enough later on in the day I ended up having to wear sunblock.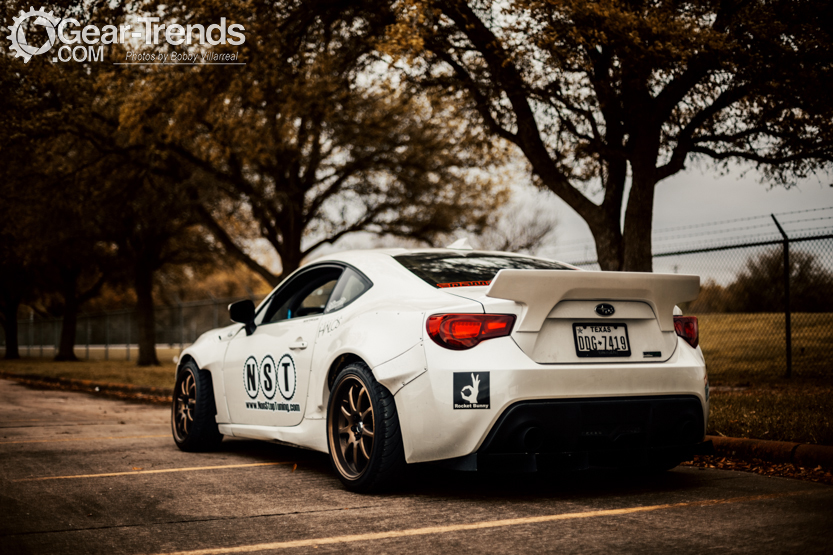 Now if you're like me you'll just get bored and jump from one car to the next; but some – well some own a Mazda 3 that decides to blow a rod so moving to another platform seems like a pretty good idea. There were a few other options before the BRZ found its way home; there was a 5.0 Mustang (insert mustang meme here), a 370z, Audi S5 and several others that just didn't seem to feel right. That's what it all comes down to sometimes, not what has the highest hp/tq numbers, but a car that is just overall fun to drive – and although this car was one of the slower ones he test drove, it handled great and just felt right.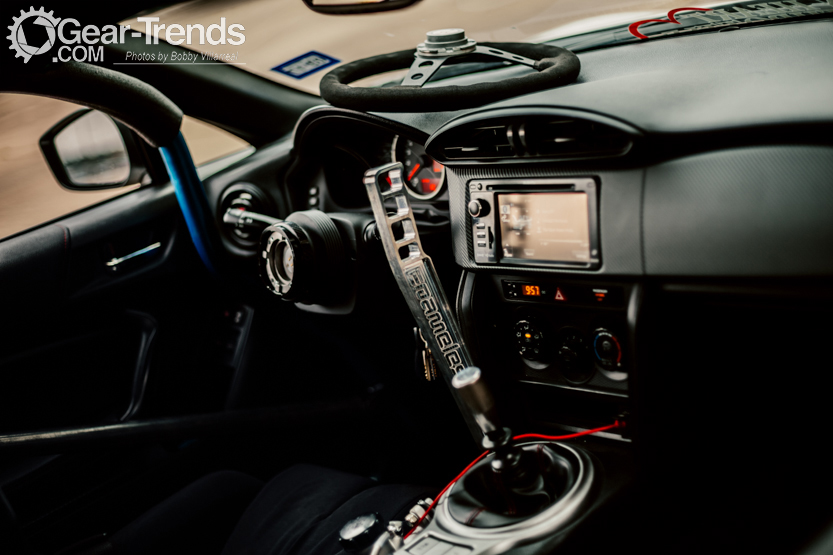 As car guys, and girls, we all have that point in our lives when we realize that keeping a car stock just isn't cutting it. It could be going to a local car meet for the first time, picking up a car or truck magazine, or in this case attending and racing at your first drift event back in late 2014 and as cliché as it sounds, the rest is history. So the BRZ was one of the slower cars he test drove, and getting the car a bit more horsepower was definitely on the agenda. Under it's hood the 2.0L motor has your I/H/E combo along with a NST light weight pulley kit, and after the tune and switching over to E85 the car is now above the 200hp mark – which paired with all the suspension mods makes for a great handling car on the track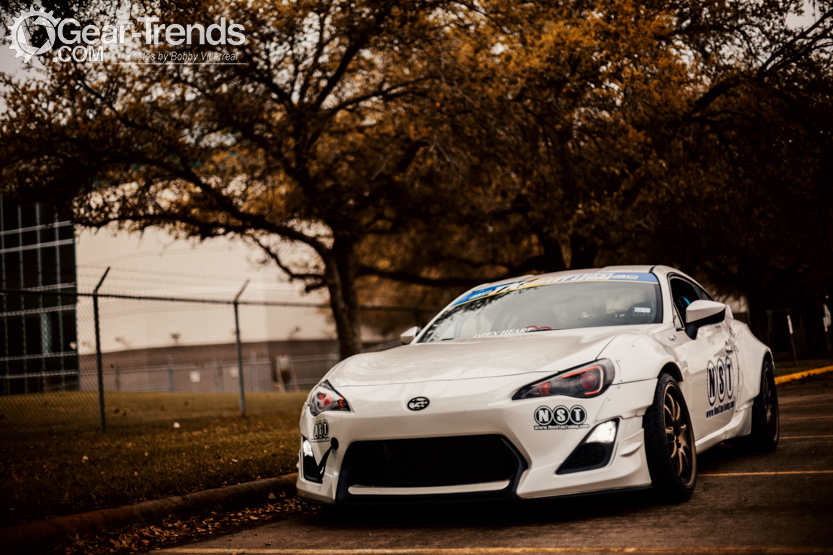 After the shoot Hunter made his way back to the pit area where he started getting the car ready for a few practice runs, and again this car looks just a good on the track as it does off the track. Now I've seen guys that do all these exterior mods to their cars, great flawless looking paint, and they wont park in any grocery parking lot for fear of getting a ding (trust me, I know them feels). But then I look over and I'm seeing this car out there coming inches to the lead car as its giving chase…not something you're likely to see everyday. This car competes in the TXSL (Texas Street Legal) division which if you haven't figured out yet, are cars that are still street legal. Some of the requirements for this series are having full interior (for the most part), functional headlights, no lexan windows, however bolt in or welded in full cages along with door bars on both sides are mandatory- along with fairly reasonable engine regulations. This series is all about having fun at an affordable cost to the drivers, and walking around in the pit areas will definitely show each of these guys having a hell of a time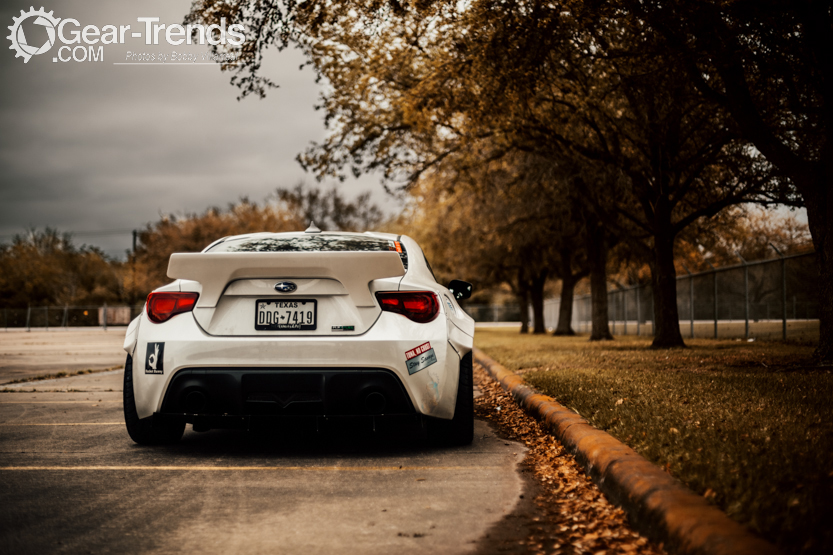 Hopefully throughout the year I'll continue to feature some more of the TXSL cars alone with some of the ProAm series cars as well. Big thanks again to Mr. Cash who took the time from his busy morning to have me grab a few photos of his car for this feature. If you're by the Mineral Wells Airport this weekend you can see his BRZ in action along with a good amount of cars at Round 2 of the Lone Star Drift series – it does not disappoint! If all goes well I should be back out there for Round 3 back at GGP which is still a long drive for us here in the RGV but to say these events are addicting is an understatement!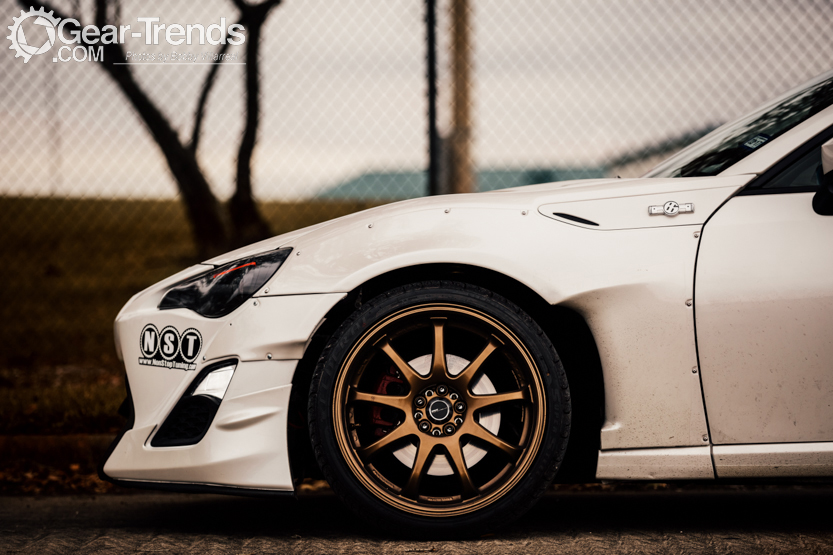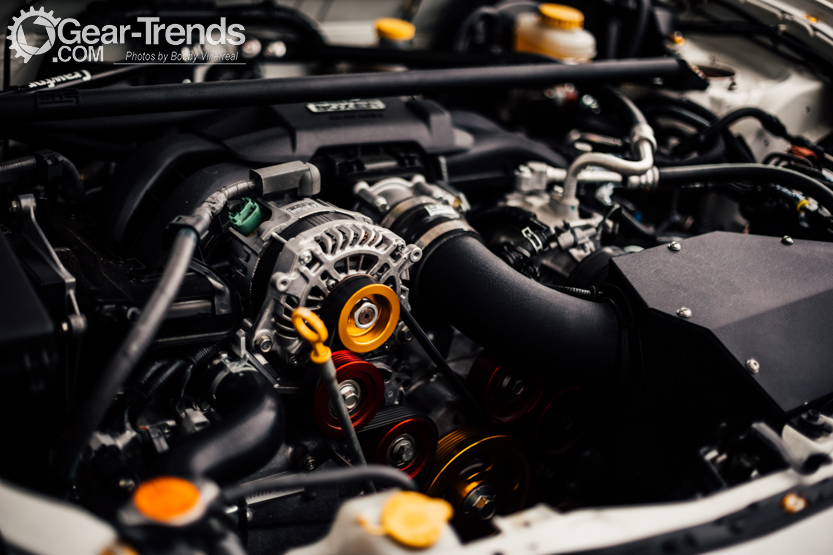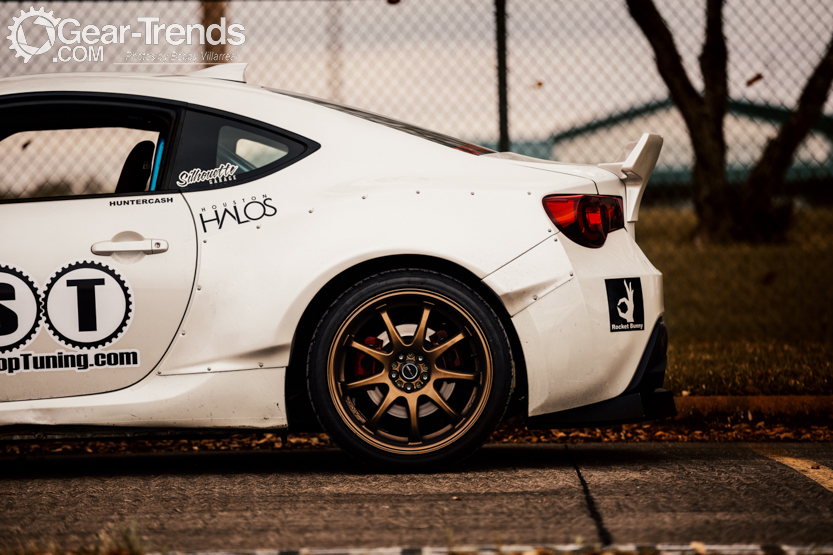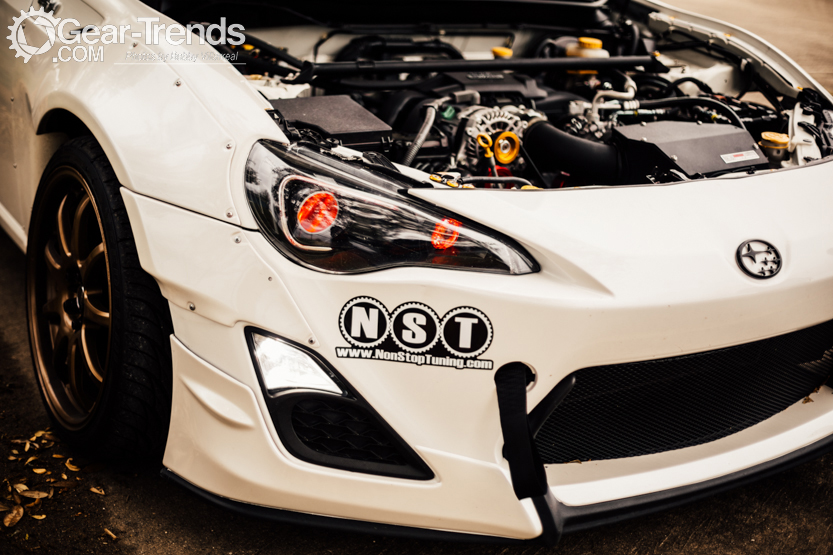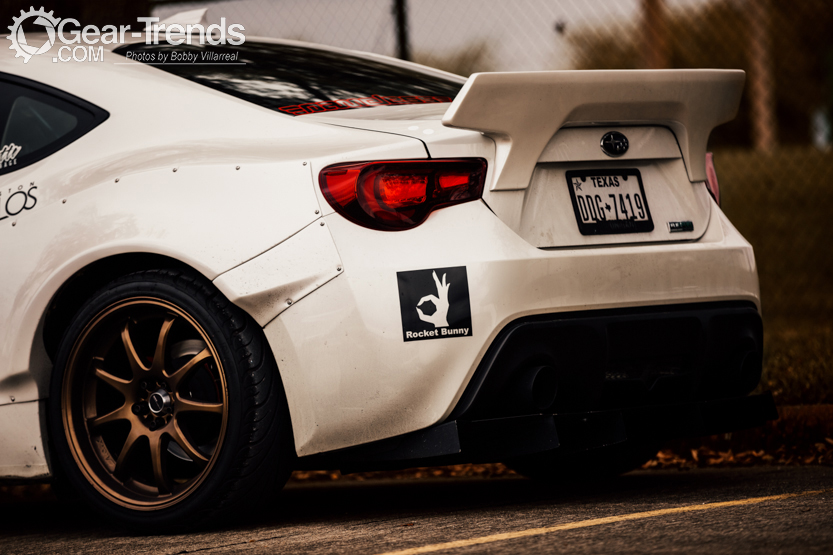 Hunter Cash's 2014 Subaru BRZ Premium

Performance :
Non Stop Tuning 7 Piece Lightweight Pulley Kit
Grimmspeed Cold Air Intake
Tomei Equal Length Header
Nameless Performance Overpipe/Frontpipe Combo
Perrin Catback
Moto-East Flex Fuel Tune
Cosmetics :
Houston Halos Quad Demon Eye for the Subaru BRZ
TRA Kyoto Rocket Bunny V1 Wide Body Fender
TRA Kyoto Rocket Bunny V2 Duck Tail Spoiler
Driveway Labs Type 1 Diffuser
Toms Tail Lights – Red Lense
Scion FRS OEM front Bumper
Nurspec Front Lip
Custom Made Subaru Emblem
Interior :
Nameless Performance Hydraulic Handbrake with Wildwood Master Cylinder
NonStopTuning Cylindrical Shift Knob
Bride Bucket Seat
Cusco Bolt in Roll Cage with Door bars and Harness Bar
G-Force 5 Point Harness
Zeitronix Flex Fuel Sensor
Rollers :
Work XD9 Front 18×8 +30
Work XD9 Rear 18×9 +15
Stiff Stuff :
Derrick Rogers Custom Angle Kit with Extended Control Arms (58-62 Degrees of Angle)
PoweredByMax Pro Coilover Kit
Hotchkis Front and Rear Sway Bars
Megan Rear Trailing Arms
Megan Toe Arms
Voodoo13 Eccentric Toe Lockout Kit
GrimmSpeed Strut Tower Bar
Whiteline Differential Bushing Inserts
Whiteline Subframe Bushing inserts
TRD Brake Pads
Stainless Braided Brake Lines
Spencer Fabrication Dual Caliper Bracket
Sounds :
Subaru BRZ OEM Head Unit and Stock Speakers (I'll upgrade it one day)
Shout Outs :
Non Stop Tuning
Houston Halos
Nameless Performance
Moto-East
Excessive Detailing
Imperial Collision Specialists
Houston 86 Club
Spencer Fabrication
Beastronix (86 Nanny)
Drive Way Labs
Check out the Lone Star Drift Facebook page to get information on the next events, order some stuff off the store, or look into what you need to get your car on the track!
Lone Star Drift Website Page
Lone Star Drift Facebook Page
————————————–

Photos and Words by : Bobby Villarreal