Sometimes planning things in advance don't always pan out the way you hoped for, which is exactly what happened with a few of the shoots I had hoped to have setup for the Round 1 event. But when building a car to meet a deadline things can go either one of two ways, and unfortunately some of the cars I had booked weren't able to make it to the event. Recently I heard these other cars are finishing up and I cant wait to get them up on here for you all to see, but fortunately for me there somehow is always a silver lining – maybe I'm just lucky? This is where Younis's S13 stepped in to be a part of the Round 1 feature cars, I seriously need to make it to more of these!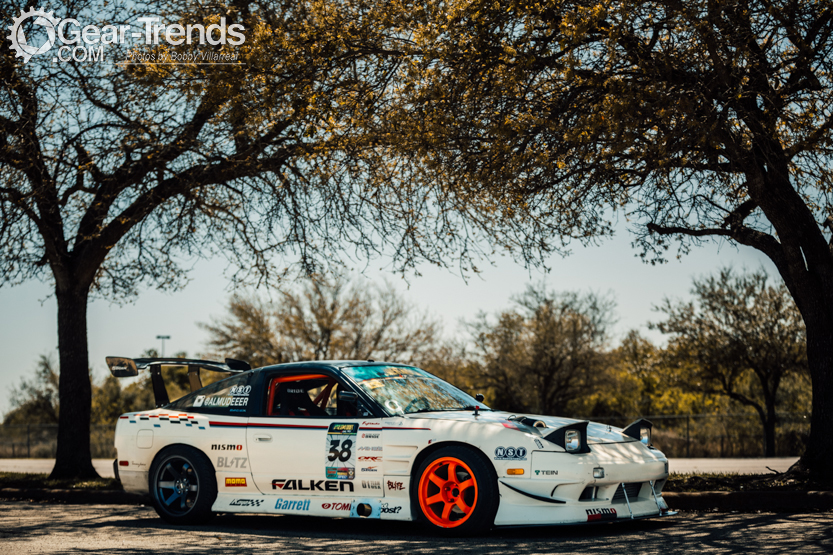 Like I've mentioned in some of the other drift related articles, I don't get to make it to every event- and I envy those media guys that are able to. It's become addicting photographing what these guys build to do on the track, as I'm sure the same can be said for the drivers themselves. I've always thought it was funny how most photographers I know are for the most part very outspoken, and here I am this hermit crab when it comes to meeting new people – it definitely makes setting these things up daunting at times. After shooting all day Saturday, my buddy Eddie, his family, and I headed out to grab some food, and get back to our hotel where I ended up editing just a few photos. Earlier I had posted some photos off the back of my camera to the event page letting people know I was one of the media guys, etc etc, one of the cars pictured was this S13 here, and the owner was eventually tagged. Sunday came around, I had seen the car do great on the track, and during a bit of a cool down I noticed the driver standing around watching the other drivers. I knew I needed to get a few other cars to shoot, I wanted to come back home with more than a handful of on the track photos, so features were definitely on the list of things to do up there. I introduced myself, let him know I was the guy that posted up the photo of his car and well here we are, sometimes I really overthink things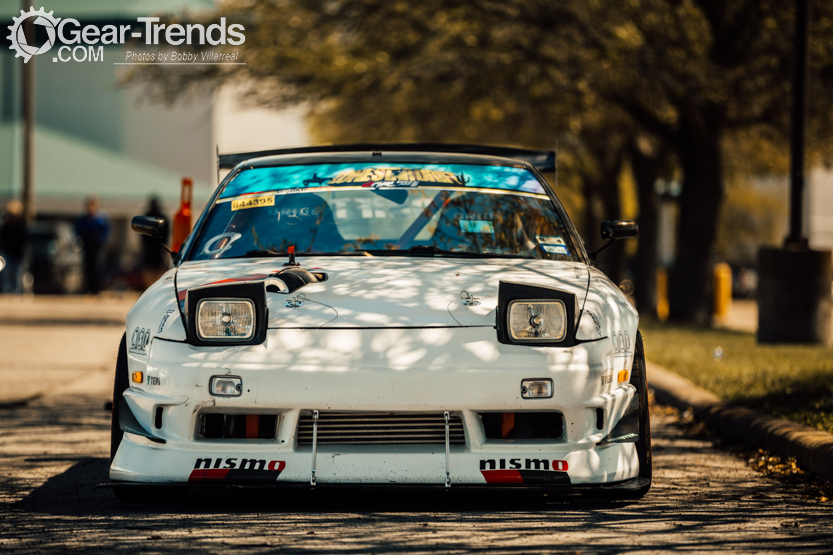 Younis led me over to where his car was parked, changing out a few things, and told me we could shoot anywhere I thought would be good – so we headed off next to the track. I've said this before but I really appreciate the fact that him, and Hunter (previous feature), were up for taking time off from being on the track and doing this. I got to shooting pretty quick, got the shots I knew I wanted and we were done – quick and easy. He got back out to making some changes and getting back on the track, and after putting another layer of spf10000 I was out there shooting the rest of the evening. After the event we talked a bit over Facebook and sent him over the template for the mods list, I figured it'd be pretty lengthy because looking at the car in person- the car definitely has a lot going for it. The car was pretty much done in stages, going through a few different setups till it got to this point. After purchasing the car in 2011 with a stock SR20 and welded diff he found himself at his first Lone Star Drift event the very same year just to try it out. After a few years the car got a face lift with some aero upgrades, along with some suspension and handling parts and took the car to another LSD event to get some more practice in. The following year is when things got a bit more serious with plans to get into the ProAm series, the SR20 made its way out and the 2jz paired with the aem v2 ecu went in along with a roll cage done by Jacob Reinartz. The twin turbo life ended two years later when the single turbo setup paired with larger injectors found its way under the hood in time for the 2016 season. The Precision PT6262 along with the Injector Dynamics 1000cc helped get the S13 up into the mid 400 hp/tq which is where the car is currently sitting at numbers wise.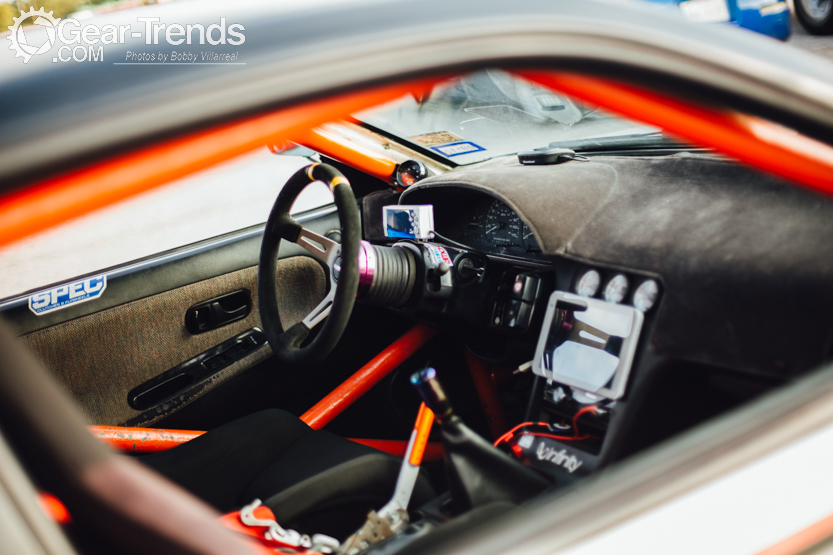 I've heard this said many times before, its not always about the destination- it's about the journey ; and almost anyone that has been a part of the automotive community can agree. I've met some older guys in the hot rod/muscle car group that say everyone of their friends were all car guys and for the most part still are. And the cars they have? they're ok, they enjoy them, and seriously this coming from a gentlemen in a fully restored flawless 68′ Camaro definitely means something. For some its all about being on top of the hill, getting the most likes on a photo, the most followers, all the internet fame but good luck getting any type of help or knowledge from them- and I guess that's all fine, you aren't required to. But then you have a few guys that have spent years learning how all this works, how to do certain things, even down to how to drive your car. I ran into Younis after Round 1 in San Antonio for the "A day of drift" events hosted by Shane Vasquez – which I also hope to make it to more of these events as well. He was out there, walking down the line of cars talking to some of the guys just getting started, helping them, giving them advice. I found out years back that there are some things you learn that should be shared- not everything in life is this harsh cut throat competition. This month the Lone Star Drift series makes it's way back go GGP (Gulf Greyhound Park) for Round 3, so lets hope I get the chance to make it out for more coverage!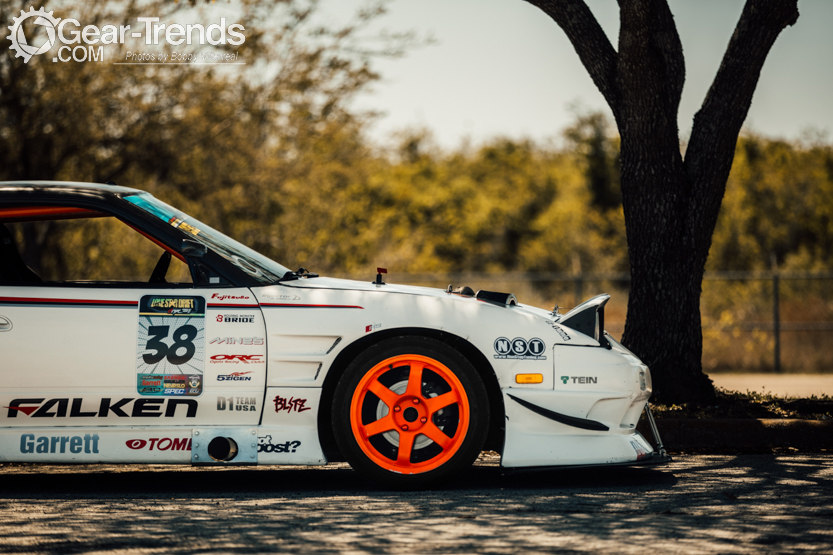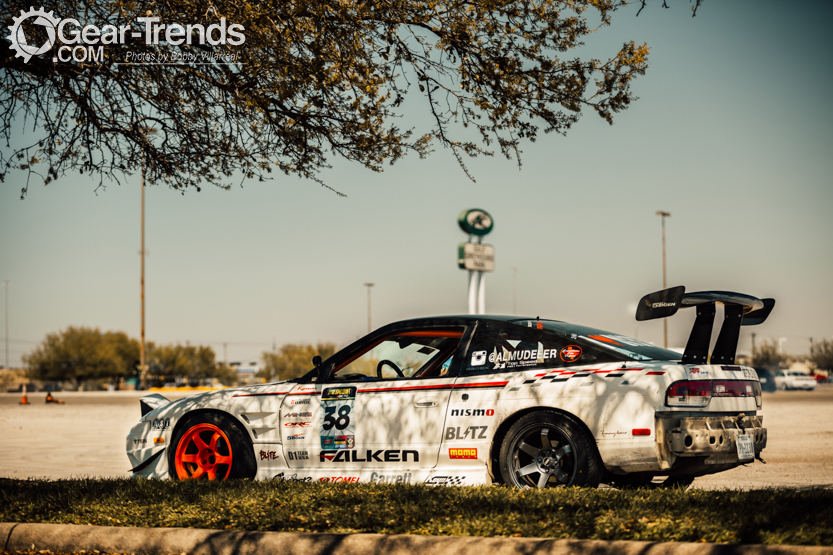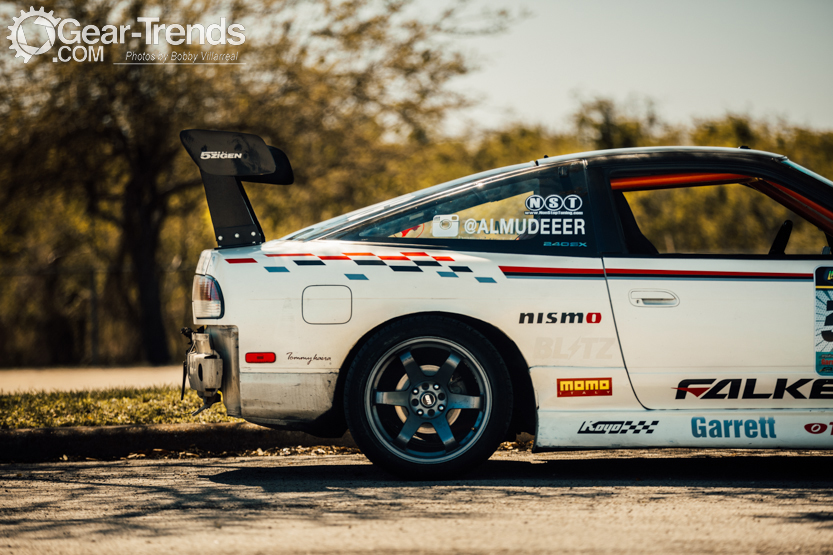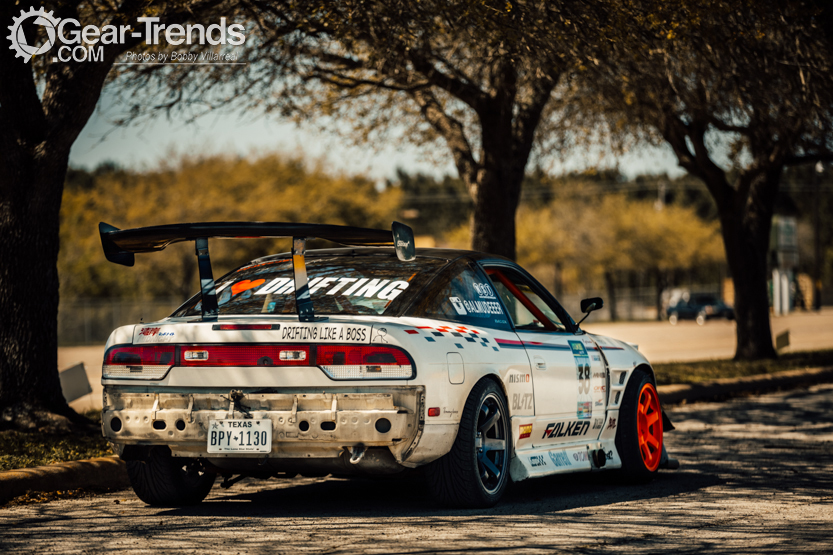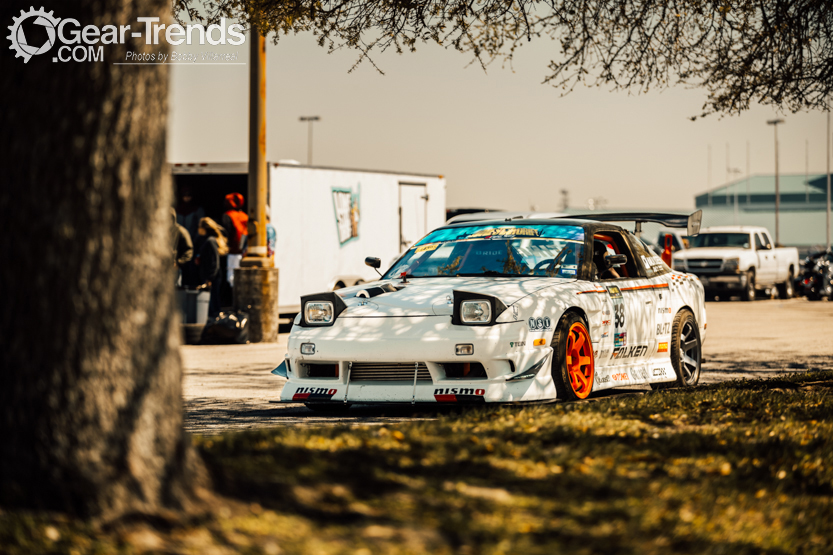 Younis Nazir's S13 Hatch

456rwhp/433wtq on 20psi on 93 Cctane Pump Gas
Performance :
2jzgte
Single Precision PT6262 Turbo (62mm)
Precision 46mm External Wastegate
Injector Dynamics 1000cc (ID1000)
AEM V2 ECU
CXRacing Turbo Manifold & Wastegate Dump Pipe
R154 Transmission & Stage 3 ACT Clutch
Welded Diff
One Piece Driveshaft
Walbro 450lph Fuel Pump
AEM Wideband
Apext AVC Electric Boost Controller
Cosmetics :
Duraflex D1 Front Bumper
Duraflex 50mm Front Fenders
Duraflex D1 Side Skirts
Duraflex Rear Bumper
Carbon Fiber Wing w/ Custom Made Brackets
F1 Carbon Fiber Side Mirrors
Interior :
S&W Formula Drift Roll Cage Specs
Roll cage fabricated and installed by Jacob Reinartz
Bride Low Max Seats
6 points G-Force Harnesses
Momo Steering Wheel
NRG Quick Release Steering Wheel
Glowshift Gauges
Toshiba Tablet Connected to AEM ECU for Engine Reading
Rollers :
Front: Rota Gride 17×9 +12 Offset w/ 20mm Wheel Spacers
Rear: Rota Grid 17×9.5 +12 Offset
Tires change depending on event. Preferred setup : Kenda 245/40r17 rear
Stiff Stuff :
Front Infiniti J30 Crackes
Megan Street Coilovers
Godspeed Gen2 (Front Tension Rods, Rear Upper Control Arms, Rear Toe Arms, and Rear Traction Arms)
Godspeed Rear Lower Control Arms
Godspeed Rear Supframe Hard Bushings
Megan Rear Toe Arms Support Bar
Megan 22mm Rear Adjustable Sway Bars & Adjustable Sway Bar Links
Power by Max Knuckle (parts shop max)
1 inch Extended & Notched Front Lower Control Arms
Power by Max Steering Rack Bushings
Power by Max Offset Rack Spacers
Megan S14 Inner Tie Rods
Abercrombie Motorsports Outer Tie Rods Extended 2inch
Sounds :
Pioneer MP3/Bluetooth/AUX/USB Player
Pioneer Speakers Up Front
Check out more progress and videos of this car in action over on Instagram!
Younis's Instagram
And also be sure to check out the Lone Star Drift Facebook page to get information on the next events, order some stuff off the store, or look into what you need to get your car on the track!
Lone Star Drift Website Page
Lone Star Drift Facebook Page
Lone Star Drift Youtube
————————————–

Photos and Words by : Bobby Villarreal