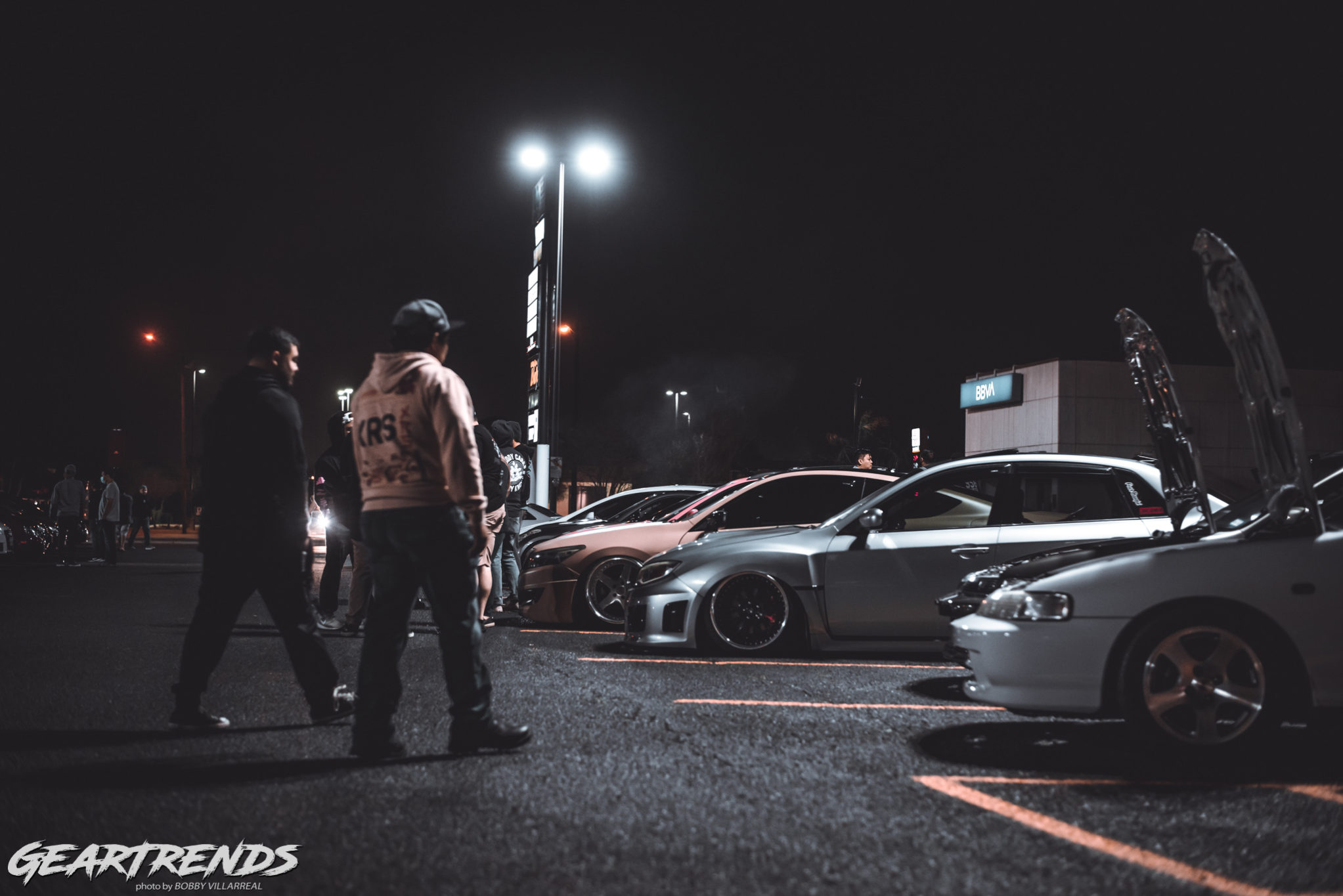 Last night was one of the first RGV4CYL hangs I've been to in a long, LONG, time. If you've been around since the old forum days, and you were a local enthusiast then you'll remember the name. This was before all the meets that happen now, before hashtags, before needing a trophy just to take your car out, oh no… I'm talking shit again, I wasn't going to do that this year.
Meets were something I'd be at every week, literally rain or shine. Back when I was hanging out with High Intenzity, what a throwback haha, we'd post up at the Blockbuster on the corner of 10th and Nolana. But as the years went on, the hangouts would remain the same for the most part- which is a good thing. You would show up, park with your friends, and if you weren't socially awkward (raises hand) you would walk around and check everyone else's car and talk to each other. The occasional friendly run would happen far away from spectators, crowds, intersections- but these day's it's mostly just catching up and being able to get out of the house since most of us are still keeping things chill due to the pandemic situation. The car scene in the valley a love/hate thing, it always feels like the big trends hit here way later- but one thing I'm glad that hasn't become the norm here are "TakeOvers". You'll see this sort of thing happen in the bigger cities, and it's started becoming more and more dangerous and downright ridiculous. Kids, I'm calling them kids cause these people are going through a phase, aren't automotive enthusiasts, they're just out there being idiots looking for attention. Now I know, I know – most of us have done some not so chill things in our days, but we learned, and for the most part everyone in my close circle keeps that sort of behavior so far away from city limits. Last night I was hanging out with friends I don't get to see every week, I saw cars I haven't seen in person in a while, we caught up and talked and then headed home. I got home last night and before I went to bed I started my sleep routine of mindlessly scrolling through FB when I caught a bunch of posts about an incident that had just happened in Houston. I'm not going to blame the host of the event, hell I'm not even going to blame the bystanders that were just hanging out on the side of the feeder lane even though we all know can be risky. However, I am going to blame this mentality of needing attention SO badly you'll do something incredibly dumb behind the wheel of any vehicle, whether it's a civic or a muscle car, it doesn't matter. Some people went out to an event last night in Houston and didn't make it home, and all because some dude wanted to show off? That thought hit me hard last night, I thought of everyone I talked to at this event here in town and how I can go home knowing everyone was safe, and made it home. If there's one thing I hope the car community here in the valley sticks to, it's to keeping our hang outs the way it has been for years. RIP to those who didn't make it home last night and were just out there having a good time wanting to be around cars like the rest of us.
_________________
Thanks to Freddy R. at Ink Lounge for allowing us to gather here without any issues & to Tabatha of RGV4CYL for getting these hang outs up and running again. If you want to stay current on when these will happen be sure to follow the Facebook Group and Instagram page and as always be sure to follow us on Facebook, Instagram, and Twitter!
Words and Photos by: Bobby Villarreal